According to Circa Sports director Matthew Metcalf, the key to a profitable and popular sportsbook is the machine operating behind the scenes. He has made it his career goal to assemble top talent at the Las Vegas sportsbook in order to offer his customers the best available products. He is not one to sit on the sidelines either. Metcalf has made a name for himself in this business by constantly scanning his surroundings and looking for ways to improve.
A Florida native, Metcalf graduated from the University of Florida in the early 2000's and immediately set his sights on Las Vegas. He reached out to the top sportsbooks in town and secured a job under the leadership of Jay Kornegay who at the time was heading Imperial Palace and is now an executive at Westgate Las Vegas SuperBook. "That meant everything to me," says Metcalf. "It was my single-minded focus. All I wanted to do was come out and work for a sportsbook in Las Vegas." Metcalf learned under Kornegay for several years until he decided to pursue a professional career in gambling focusing on college football and NASCAR. It was this experience, on the other side of the betting counter that has largely driven his vision for the Circa Sportsbook.
"I really didn't understand how much I loved the customer service part of the [sportsbook] job until I quit to bet sports and saw how a lot of bettors were disrespected," says Metcalf. "Not everyone was treated the same when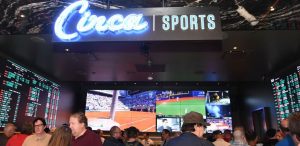 they came in. It almost got to a point where I was offended on behalf of sports bettors, and I decided if I got back in the position, I was going to make sure I righted a wrong that had existed, not at all sportsbooks but many, for the last 20 years."
That opportunity presented itself when Metcalf linked up with Derek Stevens, who at the time was trying to gather talent ahead of breaking ground on his brand new $1 billion resort. The two quickly came to realize that they shared many of the same goals when it came to building out a premier sportsbook. "Matt really clearly showed what his thought process was on how to build this business, how to build a book from scratch," said Stevens. "We spent a lot of time together. A lot of lunches where we would have an idea and it would just snowball."
Bennett and Benson
The first two additions to the team were Chris Bennett and Jeffrey Benson. According to Metcalf, both Bennett and Benson were essential hires because they shared an understanding of that unique perspective of both the customer placing a bet and the sportsbook. "When I got hired for this job, I had a list in my head of exactly where I wanted to go," says Metcalf. "I didn't get everybody I wanted, and I still haven't, but I knew Jeff [Benson] from Palace Station as the best customer service person in the entire town. And Chris [Bennett], I had been with him at the Hilton. I had to get Chris."
Bennett is the sportsbook's manager and specializes in the baseball sector. Together with Jeff Davis, a former Caesars executive and expert in NFL and NHL, Bennett runs more of the day to day operation of the Circa Sportsbook than anyone else. "I've been fortunate to work with a lot of well-respected people, but Chris, man, he is so sharp," says Nick Kalikas, another member of the Circa team. "He's so on top of everything. I don't think people understand the mind this guy has. He's phenomenal and makes sure the ship runs tight all along the way."
Bringing In Outside Minds
The guiding principle behind Circa Sports has been to offer customers some of the highest betting limits in Las Vegas across all of its sports offerings. When Metcalf took a good look at their position in the UFC and mixed martial arts betting market, he saw that potential profits were being missed. "I had no clue how big UFC betting was. I'm not a UFC fan and I didn't understand how much write we would have in it and how important it was going to be to our bottom line," said Metcalf.
His solution was to bring in top industry talent, Nick Kalikas. Kalikas was a consultant for a few of the biggest sportsbooks in the world up until rather recently when he decided to bet on his own, fulltime. That is, until he met up with Metcalf and the two were able to pool their ideas. "There were so many similarities between the two of us," according to Kalikas. "From the first conversation we had, he totally got where I was coming from and why I stepped back and bet MMA for a while. We could relate to each other and that made things a lot easier for me, a lot more comfortable." As a result, the Circa team has been able to manage its risk more effectively and has offered limits as high as $25,000 for certain bouts.
Future Plans
Metcalf is confident that he can bring this aggressive tack to bookmaking onto the Vegas stage and across all sports in the Circa repertoire. Together with owner Derek Stevens, he hopes the new Circa Resort will help elevate sports betting into a new era. "With the quantity of sports that's now necessary to book, you've got to have specialists in every area. The team Matt put together is pretty terrific," says Stevens.
As for the future of Circa Sportsbook, Metcalf had this to say, "The next step is to continue to get more people in here to experience the product we've built and the room we've built. And, at all points, treat them the way we would want to be treated if we were betting. I don't think you can go wrong with that, and that will lead us to all our other goals."