A new sports betting app is looking to flip the world of sports betting on its head by making it a social experience and introducing sports wagering to an entirely new fanbase. Since the Supreme Court lifted the ban on sports betting in the United States in 2018, residents have found a plethora of sports betting options. Up to this point, those interested in sports betting have placed wagers at traditional brick-and-mortar sportsbooks, as well as online and mobile sportsbooks. All of these wagers have been placed against the "house" or the casino responsible for operating the sportsbook, with little to no interaction between those wagering; Wagr is looking to change this model. The new sports betting app has set out to make sports betting an inviting experience, where users can place wagers with and against their friends. Recently the app has recently received the funding to make this dream of coupling sports betting and social interaction a reality.
About Wagr
Wagr is a gambling app that was founded in April 2020. The app is unique in that it allows fans to bet on sports with friends, rather than betting against the house. The goal is to revolutionize sports betting in an attempt to tap into an entirely new market of customers who may feel intimidated by the traditional sports betting experience. The app will also give users the opportunity to engage in new and unique sports betting opportunities that allow them to place wagers against their friends, while talking trash and engaging in friendly banter across their app.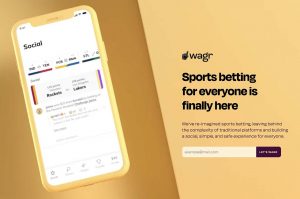 Mario Malave sat down and spoke with Yahoo Finance about the revolutionary app, and the company's plans to change the way people place wagers on their favorite sports. Malave shares that there are three components of traditional sportsbooks that Wagr hopes to change. First and foremost, traditional sportsbooks pit users against the house, meaning the house only makes money when the user loses it. Secondly, these sportsbooks are not intuitive enough to provide an inclusive experience to new users. Finally, these sportsbooks have primarily been marketed exclusively to men. Wagr has set out to address these challenges in a way that no other sportsbook has.
Since the legalization of sports betting in the United States, an entire culture of sports betting has emerged. Professional sports throughout the country are flooded with sports betting advertisements and promotions, and professional sports teams and venues have struck partnerships with prominent sportsbooks and apps. This culture has created a buzz of social conversation, and Wagr hopes to provide a more tangible home for that conversation. In recent months, the app has received significant funding to make these dreams a reality.
Funding the Change
Reddit Inc. co-founder and founder of Seven Seven Six Alexis Ohanian is heading a $4 million seed-funding round for Wagr. Ohanian shared his own belief in the app's future, saying it provides a platform for the culture that has already been established throughout the country. Ohanian also spoke with Yahoo Finance, sharing his interest in sports betting. "I don't consider myself a gambler but my friends and I really enjoy just thew thrill of talking trash and backing it up with a few bucks."
Wagr's goal is to take this exact experience and market it to casual gamblers throughout the country, and they could not have found a better partner than Ohanian, whose Reddit platform thrives under peer-to-peer interactions. Ohanian shared his belief that Wagr is a reflection a larger social phenomenon that has brought about the intersection of community and capital, or social media and finance. The proof of this phenomenon is most evident in the influence that Reddit has had on "meme stocks," causing seemingly irrelevant stocks like GameStop rise to unprecedented numbers through buzz created through social interaction on the site. However, Ohanian and Wagr believe that this new phenomenon is much more than a meme, and that the next decade could bring about an even greater overlapping of finance, including sports betting, and community engagement.
In addition to funding from Ohanian's Seven Seven Six, Wagr is also backed by Greycroft, Pear Ventures, Tinder co-founder Justin Mateen, and former chairman and chief executive officer of Saks Inc. Brad Martin.
Betting on Wagr's App
Malave shared that the goal for Wagr is to start slow, with simple wagering options and steadily build the platform based on user interactions. Initially, Wagr will only offer point-spread bets. Users who are looking for an entry point to the world of sports betting will not be bombarded with an overwhelming number of wagering options that are often found on other apps or sportsbooks. The goal is to make it simple to pick a team and the amount you want to wager, and then place your bet.
Wagr will offer lines for a number of major sports and plans to introduce prop bets or money-line wagers in the future. The reason that the app is focusing on points-spread first, according to Malave, is because they lend themselves to the peer-to-peer model that the app aims to create. With the app, users will place a wager on one point spread or the other, often with a friend, family member, or another person in their social circle, setting the stage for the ensuing banter. If a user is unable to find a friend who is interested in taking a bet, then the app will match them with someone in their state who does.
Wagr plans to have users pay a platform fee for using the app, giving them access to an app that offers the odds, payments, and platform for trash-talking. The app's fees will be comparable with traditional sportsbook or casino fees. The app currently has pending license applications to operate in Tennessee and Virginia.