On Thursday, DraftKings announced a new partnership with Sports & Social, a company that specializes in sport-centered entertainment venues. With the new partnership, the sports betting giant plans to launch two new venues that would couple top-of-line sports bars with sports betting. Chief Business Officer Ezra Kucharz said that DraftKings plans to bring its existing sports betting products "to life by offering engaging, interactive fan-first destinations." The partnership means that new DraftKings venues will be coming to Nashville and Detroit in the near future.
About the New Partner
DraftKings made a name for itself back in 2012 with the launch of their daily fantasy sports platform. Since then, the company has grown significantly, becoming a household name for anyone who is a fan of professional sports in the United States. With the Supreme Court's decision to lift the ban on sports betting in 2018, DraftKings has grown even more, launching mobile and brick-and-mortar sports betting locations throughout the country. The company is now looking to grow even further, taking its nearly 10 years of experience into its new partnership. The new relationship will couple sports betting products with an all-around entertainment experience for its customers, thanks to the help of Sports & Social.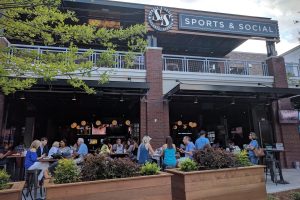 Sports & Social is renowned for creating unique luxurious gaming establishments in the form of social lounges throughout the country. The company successfully joins state-of-the-art sports viewing with a quality dining experience and an enticing cocktail menu. While visitors dine at these locations, they can watch and enjoy live sporting events from around the world, all while placing bets through retail or online sportsbooks that have partnered with Sports & Social. The company is a brand of Live! Dining & Entertainment, which is a division of The Cordish Companies. The Cordish Companies venues attract more than 55 million visitors to their dining and entertainment venues in the United States every year.
Two Lucky Destinations
According to the release, DraftKings and Sports & Social have chosen Detroit and Nashville as the two destinations for their new sports entertainment venues. In fact, Sports & Social already has a location in Detroit that will become the home of the new partnership. Sports & Social Detroit is located at Woodward Square in downtown Detroit in the area known as District Detroit. As it stands, the venue does not have a retail sportsbook, but the new partnership will change that. The existing location is positioned perfectly for a sports entertainment venue. As it stands, the venue is within reach of Little Caesars Arena, home to the NHL's Red Wings and the NBA's Pistons, as well as Ford Field and Comerica Park, home to the NFL's Lions and the MLB's Tigers respectively.
Despite the strong foothold in Detroit, Sports & Social does not yet have a presence in Nashville, leaving the anticipated location up for debate. It's possible that the venue could make its new home in Nashville's Music Row district, a popular tourist destination that is conveniently located near Bridgestone Arena, home of the NHL's Predators, as well as Nissan Stadium, home of the NFL's Titans. It is likely that the Nashville location will not include gambling kiosks, as brick-and-mortar gambling venues are still prohibited in Tennessee. That being said, DraftKings and Sports & Social will surely use DraftKings' existing online platforms to create a unique customer experience in their latest venture.
An Evolving Sports Betting Industry
The partnership between DraftKings and Sports & Social is representative of the ever-evolving sports betting industry in the United States. The two companies are taking their existing success and looking to build upon it by adding a new and unique experience in Detroit and Nashville. DraftKings' sports gambling platform already operates in 14 states with its online and mobile app, with 10 retail locations as well. Their fantasy sports app is available in seven countries, while their gaming technologies are used by more than 50 operators across 17 countries. Sports & Social currently operates sports entertainment venues like the two proposed in Atlanta, St. Louis, Arlington, Pittsburgh, Philadelphia, and Baltimore.