Penn National Gaming, an operator of casinos and racetracks based in Pennsylvania, announced last week that they had acquired a 36 percent interest in Barstool Sports, a leading digital sports media company. The acquisition cost Penn National Gaming approximately $163 million in cash and convertible preferred stock, and the deal places Barstool Sports at a $450 million valuation. The deal has peaked interest throughout the gaming industry, and Penn National Gaming stock has already seen an unprecedented rise. The partnership between the two companies has implications for the gaming and sports industries, as the groups plan to collaborate in an effort to offer attractive sports betting options.
What Their Investment Gets Them
The $163 million investment in 36 percent stake in Barstool has already been labeled a bargain, considering the potential return on investment. President and Chief Executive Officer of Penn National, Jay Snowden, believes that the new partnership will help elevate the reach of the nation's largest regional gaming operator, as they join forces with a brand who offers an entry-point for a young new demographic. In three years, Penn National can add to the deal and increase its interest in Barstool to 50 percent, with an incremental investment of $62 Million.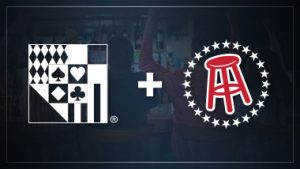 The Chernin Group was Barstool's majority owner before the announcement of this new deal, with 60 percent ownership of the site. Following the deal, The Chernin Group will still hold 36 percent of the site, leaving the remaining 28 percent stake to Barstool Sports employees. The new deal is expected to be finalized in the first quarter of 2020.
Penn National Gaming's investment ensures that they will be Barstool Sports' exclusive gaming partner for up to 40 years. They also have the option of bringing in another partner who could acquire a portion of their shares in Barstool. During this 40-year period, Penn National has the sole right to use the Barstool Sports brand for all online and retail sports betting and iCasino products. Penn National has already expressed their interest in launching a Barstool Sportsbook; Head of Penn Interactive, Jon Kaplowitz, shared that customers should expect a sports betting app from the new partnership in the third quarter of 2020.
The Barstool Sports Brand
In the announcement from Penn National Gaming, Snowden touted Barstool sports for being a leader in digital sports content, with its distinct branding and young demographic. Led by CEO Erika Nardini and Founder Dave Portnoy, Barstool Sports has grown from a small pop culture print publication and blog in Boston into a national sports media giant, gaining a cult following in colleges and young audiences throughout the country. Barstool Sports fans, often referred to as "stoolies," have established a tangible sense of community and helped build the notorious and sometimes infamous Barstool brand. Both Nardini and Portnoy take pride in the fact that their brand unabashedly tackles some of the most controversial pop culture and sports topics, making them, if nothing else, a brand that simply cannot be ignored.
Barstool already offers a number of sports betting podcasts and programs, and the deal with Penn National Gaming suggests that there are serious plans to build upon this existing market. In addition to their podcasts and betting guides, Barstool offers their own betting app for iOS and Android called Barstool Bets. The Penn Gaming partnership gives them an even larger platform for their sports betting options. The new relationship will be mutually beneficial, as both companies expand their audience to new demographics.
Already Paying Off
In the days following the announcement of Penn National's investment, shares for the company jumped 14 percent. The unprecedented rise in Penn National's stock is just the start of the lucrative partnership. Barstool Sports has nearly 66 million monthly unique visitors to their site and has generated $100 million in revenue over the past year. Penn National Gaming currently runs 41 gaming facilities, offering more than 50,000 machines, 1,300 table games, and 8,800 hotel rooms. Their new betting app with barstool will mark a new opportunity to reach into new markets throughout the country.