Alberto Garzon, Spain's consumer protection minister, recently announced plans for a serious crackdown on gambling advertising amidst concerns about addictive gambling behaviors. Throughout the country, officials have already begun to impose over 100 new restrictions, including cutting 80 percent of online gambling adds and limiting opportunities for gambling advertising sponsorships in professional sports. The decision to launch these new restrictions stems from a campaign promise made by Garzon's Unidas Podemos party to protect youth and gambling addicts. The latest changes have raised some concerns about the possible impact on the growing gambling industry.
Details of the Ban
The reasons for the ban have been clearly stated; Garzon considers this a clear issue related to public health, much like the use of tobacco or other addictive products. The Spanish gaming lobby reported that gamblers in the nation lose an estimated 10 billion euros every year. This estimate includes sports bets, casinos, and national lottery tickets. While this figure is certainly staggering, it is important to consider its implications for the amount of potential revenue produced through wagers placed and sponsorships that have come from this budding industry.
One of the most important changes to help address Garzon's concerns is the banning of marketing offers that advertise promotions for free bets to new customers, which Garzon believes clearly targets vulnerable groups. Along those same lines, any ads during live sports broadcasts cannot promote live betting or specific in-play wagering markets. These free bet and live betting promotions are common for online casinos and sports betting sites throughout the world, yet Garzon clearly feels that a change must be made to eliminate them.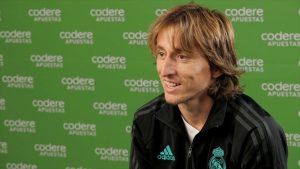 The new restrictions will reduce television gambling advertising by as much as 80 percent. This will be done by limiting all online gambling adds to a four-hour window starting at 1 am. This window not only applies to television adds, but also radio and online platforms. Gambling companies will also be barred from using celebrity endorsements in any of their advertising, which could have a significant impact on companies like Codere, who use Real Madrid stars Luka Modric and Eden Hazard for their marketing. Additionally, soccer teams who feature gambling advertisements on their jersey will have to remove those advertisements on all youth jerseys being sold.
Potential Effects of the Ban
Like many other regions of the world, Spain has seen an increasing interest in gambling over the past decade. Online gambling in Spain nearly tripled between the years of 2014 and 2018. With this substantial growth, the nation has inevitably witnessed a rise in gambling advertising as well. These sweeping regulations now pose a significant threat to advertisers and the sports teams they sponsor, as well as the gambling industry as a whole.
Many teams have benefitted from the significant growth in the gambling industry throughout the country. Popular Spanish soccer clubs, such as Barcelona, Real Madrid and Levante, have featured gambling advertising on their jerseys for years. Under Garzon's new restrictions, gambling and sports betting companies are barred from entering naming rights deals with professional sports teams' stadiums, nor can they have advertising within these stadiums. Many soccer clubs throughout Spain have enjoyed sponsor deals with gambling companies, and they may feel that these new restrictions pose a threat to these lucrative opportunities.
While the current changes have a relatively minimal impact on sports betting itself, they could have serious implications for the industry over time. The changes do not completely remove sports betting advertisements from the equation, but teams could become wary of entering new sponsorship deals in fear of stricter regulations in the future. Additionally, the impact of the limited advertising opportunities could damage existing revenues, shrinking the gambling and sports betting industry as a whole. It will be interesting to see how Garzon's regulations affect the gambling landscape as they are introduced over the next few months.