After Covid-19 closures and restrictions, Indiana casino gambling and sports betting is nearly back to normal. After a never before seen three-month closure, gambling and sports betting in the Hoosier state is coming back to life. In July, the state reported total sports wagers topping $1 billion. Indiana casinos also reported roughly the same gambling revenues as this time last year according to the Indiana Gaming Commission; despite Covid-19 shutdowns and restrictions.
Dan Nita, General Manager of the Horseshoe Casino in Hammond and Regional President of its parent company Caesars Entertainment Inc. said he is very pleased with July's results. He went on, "we continue to work very hard on providing a great entertainment escape for our guests, and over the last several weeks we continue to find ways to add to the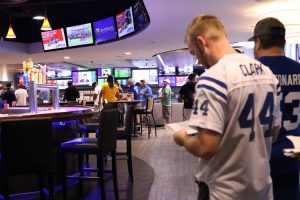 experience."
Indiana casinos reopened on June 15 in the wake of the Covid-19 pandemic. Since then, patrons of Indiana's casinos have been subjected to body temperature checks and other Covid-19 screenings, face mask requirements, and very strict capacity limits. Such capacity limits include a table capacity of no more than four players per table and nearly every other slot machine turned off in an effort to keep guests socially distant.
Revenues are Holding
However, even with the Covid-19 restrictions, Indiana casino win for July came in at just $10.1 million shy of $175.8 million reported for July of 2019. According to the Indiana Gaming Commission, Horseshoe Casino led the state reporting $30.5 million in July win. That is down just $2 million for the same period last year, operating without this year's capacity limits and safety protocols. According to Dan Nita, such revenues were made possible by creatively spacing out slot machines, repurposing temporarily unused spaces, and making sure in-demand games remained available within current health protocols.
The Horseshoe has also seen a lot of traffic from players seeking entertainment in the absence of professional sporting events, movies, and other forms of entertainment. "Where we were from June 15 to where we are almost two months later, we have definitely learned a lot along the way, and are trying to provide a great entertainment experience for our guests," says Nita.
Indiana's other casinos are also keeping pace. Ameristar Casino in East Chicago is up $4.3 million in win compared with July of 2019. At $20.8 million in win, Ameristar ranked third in the state. Majestic Star Casino in Gary reported $11.4 million last month, down from $12.6 million in 2019. Blue Chip Casino in Michigan City reported $9.2 million compared to $13.2 million in 2019. This is due in large part to daily closings for cleaning.
Statewide, Indiana Gaming Commission data reports that July sports wagers pushed total wagers over $1 billion dollars in the 10 months since sports gambling was made legal last September.